At L Saha we continue to remain committed to our defined pillars of 'Sustainability' and  'Luxury' established in 2014.
READ OUR SUSTAINABILITY REPORT
SHOP BY APPOINTMENT
L Saha welcomes you to our showroom in London at the iconic, Somerset House for a private viewing of our latest Collection. We have introduced, virtual appointments if you are unable to attend in person, due to location and travel restrictions.  Virtual appointments take place over a video meeting with a dedicated personal shopper. Please choose this option at the time of booking.
Our appointments are a great way to discover latest looks from our Collections, access special offers, attend private launches and enjoy other loyalty perks. Enjoy a glass of champagne, while a dedicated personal shopper shows you through the collection, suggesting suitable looks based on your personal style, occasion and wardrobe requirements.
BOOK AN APPOINTMENT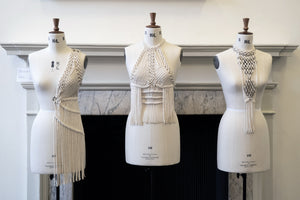 L Saha hosted an exhibition, showcasing the process of making a 100% handmade dress spanning through the length of London Design Festival, 2020 at Somerset House. The Live-Design process was performed by Laboni Saha, Creative Director at L Saha. The dress was made from sustainably sourced natural material (yarn) that is weaved into a finished garment.
Discover more about the process and inspiration
LIVE DESIGN BY L SAHA